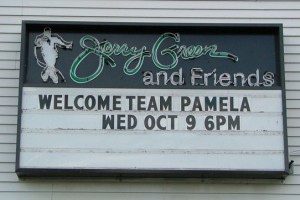 To everyone at Jerry Green & Friends especially Jerry, Crissy, Freddie, Shawn, Jeff, Glenda, Earlene Z, Susan, Sharon, the band, the staff, and all my friends who helped make my Magazine Release Party Extravaganza & Celebration of DyeSigns By Pamela, Inc. Month such a huge success.
Thanks to Kat Baker and Eric Link of Living 502 for capturing guests on the red carpet and throughout the night and for making it a picture perfect evening.
To everyone from Team Pamela who came out to help me celebrate. Thank you!
To everyone who helped make my vision a reality, thank you! It was a night I will never forget.