About The Metamorphosis Collection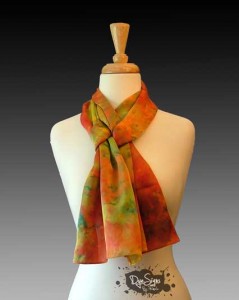 The Metamorphosis Collection scarves create that extra something you need to morph your wardrobe from ordinary to extraordinary!
These hand dyed silk scarves are the essential, must have, go to fashion accessory that every woman should have in her wardrobe.
maraki [Greek] (may-rah-kee) to do something with soul, creativity, or love; to put something of yourself into what you are doing.
That is precisely what I have done. Each scarf is a one of a kind hand crafted creation skillfully dyed in small batches by a master artisan. Every eye catching hand dyed silk scarf is a unique and colorful work of art filled with originality, style, and my artistic passion. Each piece is truly a mesmerizing and wearable work of art.
These scarves feature the same alluring and versatile spectrum of colors as the "rainbow" scarves my galleries and customers have come to love over the years, but now on a smooth 100% silk surface where the true artistry of my unique dyeing technique and DyeSigns can take center stage.
What People Are Saying
"Pamela's Metamorphosis Collection is amazing! The colors and textured patterns are vibrant and go with tons of outfits. Not to mention the silk has a rich, buttery feel that I love to rub and pet." – Celia T.
"They simply pop with the best of every color you can imagine. A Monet painting, a walk in the park, a sunset on the beach…put this silk confection on your neck and feel elegant, inspired and chic!" – Cathy R.
"Pamela's scarves are wearable luxury in a gorgeous array of colors and uniquely pleasing designs. I collect scarves and Pamela's are some of the prettiest I've seen. Best of the best!" – Cindy F.