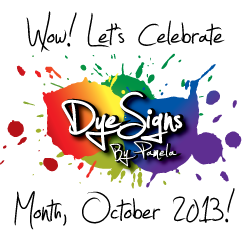 A lot has happened in the past four months!
I was chosen to be one of thirty-two quarter-finalists to compete in a national competition to have my artwork featured on the cover of The Crafts Report, a monthly business magazine for the crafts professional. I advanced to all three rounds of the contest thanks to the overwhelming support of Team Pamela and finished first runner up.
I launched a Twitter account. Follow me @DyeSigns_Pamela.
I was featured on the cover of The Courier-Journal Neighborhoods section and had my photograph taken by a photography legend, Bill Luster, who has twice been the recipient of the team Pulitzer Prize Award and who has photographed nine sitting US Presidents… and now me!
I have become an international artist with my scarves now available at Framing Dames, a gallery in Toronto, Canada.
I have reached over 300 fans on my Facebook page. You too can become a fan at www.facebook.com/DyeSignsByPamela.
I have revamped my website and have a fabulous new logo! Check them out at www.DyeSignsByPamela.com.
As you are now reading, I have begun a blog.
I have a fabulous feature coming out in the October issue of The Crafts Report magazine.
And as if all of that wasn't enough, Mayor Greg Fischer has proclaimed the entire month of October 2013 to be "DyeSigns By Pamela, Inc. Month" in Louisville, Kentucky.
Talk about warp speed and non-stop excitement! But it is all good. So welcome to my blog. I am glad you have found me. This is just the beginning. There are more great things to come, I am sure of it. Stay tuned!
Pamela Mattei, President
DyeSigns By Pamela, Inc.