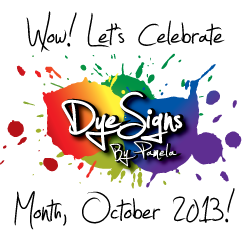 Tonight I held my Magazine Release Party Extravaganza and Celebration of DyeSigns By Pamela, Inc. Month!
Thank you so much to everyone on Team Pamela who came out to join in the festivities!
Thank you to Jerry Green & Friends and Freddie George who entertained my guests for hours.
Thank you to Kat and Eric of Living 502 who captured party goers entering on the red carpet and celebrating throughout the night.
Thank you to Shawn of Shawn's Southern BBQ for the amazing pulled pork that people raved about!
And thank you to Crissy, Glenda, Jeff, Earlene, Susan, Sharon, and everyone else who helped make the rest of the behind the scenes magic happen.
Thank you all so very much!